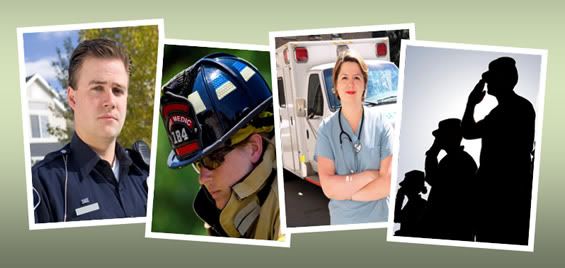 Law Enforcement, Fire, EMT, and Military Personnel:

I would like to THANK you and your family for the sacrifice you and they make every day. You provide a valuable service to our community. I would be honored to assist you and your family with the purchase or sale of a home and to show my appreciation, I will pay you $1,000. of my commission. This rebate can be used towards assisting you with closing cost, buying down the rate on your loan or can be applied towards inspection fees or a home warranty program. It's just my way of saying Thank You!

In addition to the rebate, I will make a $250. charitable contribution to the any of the following nonprofit organizations in your name providing you with a valuable tax deduction for your income taxes.

Star 6 Foundation~http://www.star6.org

California Peace Officer Memorial~ www.camemorial.org

California Fire Foundation~ www.cpf.org

California Veterans Memorial~http://www.cdva.ca.gov

"Thank You again for your commitment and dedication to servicing our communities."